You Are A Reader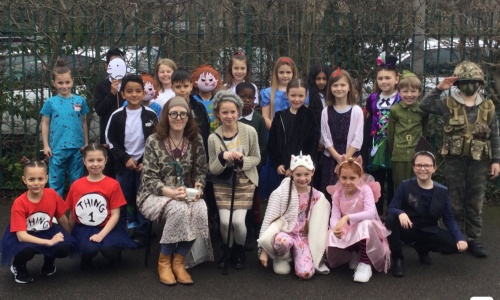 YOU ARE A READER. This was the theme for the 25th anniversary of World Book Day which took place on March 3rd 2022.
At The Meadow we love reading and are forever promoting reading across the school, encouraging the children to access as many different text types as they can.
WBD was a very colourful event with children having the option to dress as their favourite characters or produce a scene in a box. During the day children and staff shared their favourite books, there were quizzes, a Harry Potter themed Horcrux hunt and so much more, all for the love of books. Having been a success last year, the children decided they wanted the return of The Meadow stories. Year 6 create the first paragraph of a story which is then continued by year 5, then 4 etc. culminating with the final paragraph created by our Foundation Stage children.
We asked children what they liked best about WBD and this is what they said….. Yr 1 - 'I loved dressing up as Harry Potter and doing all the wizard activities like the scavenger hunt for the horcruxes.' 'My favourite bit was practising saying Wingardium Leviosa.' Year 3 - The best part about World Book Day was when we had to solve clues to open a special door. We had to find the clues outside and work in a group to solve them. Year 6 said, " We enjoyed getting to look for the Horcruxes - even if some of them were tricky to find. We also got to play Quidditch which isn't a sport we have played before!"